Is constantly coding on an office desk taking a toll on your mental health? Software development requires patience, time, and the right frame of mind.
It is an undeniable fact that remote jobs are gaining more recognition these days. Technological advances coupled with external factors such as Coronavirus have entirely transformed the nature of the workplace. 
Virtual offices have become a more known term. Nowadays one can easily hire remote developers with the best sites. Moreover, candidates can join the workplace to gain training. In this article, we shall discuss factors that are affected by both of these choices. 
Flexibility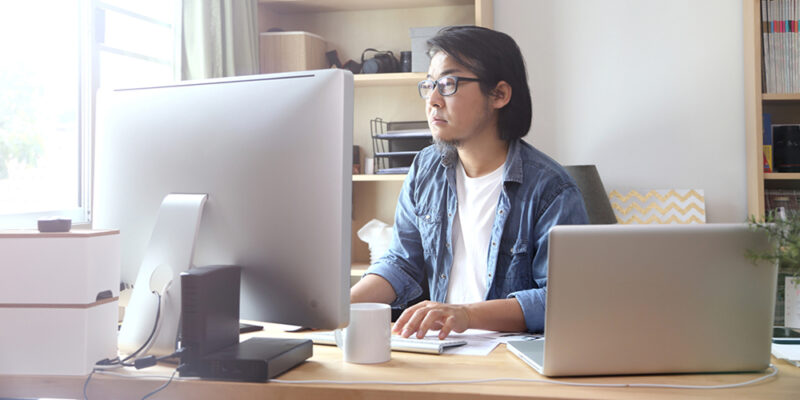 In a typical office environment, sitting in the same spot and working on a range of projects can become very stressful. Home-based software development jobs allow freedom when it comes to mobility and time management. 
An in-house developer is required to become a part of meetings, conferences, etc. Spaces are allocated by the office to the staff. Working as a remote developer involves choosing your own place of comfort. Mainly, a space where one can work efficiently and in a more relaxed manner. 
Moreover, as a remote developer, you can discuss your availability with the employee and formulate a strategy that works for both. This proves to be beneficial for both parties in the long run. 
An in-house developer needs to follow a specific timetable and therefore, they cannot deviate from that. In certain cases, even employee attendance is marked.
Diversity
Diversity in the workplace promotes growth as well as teamwork. This means that project
 outcomes can improve to a considerable extent. Different individuals with varying perspectives improve the level of innovation within a team.
 An in-house team is limited to a single location. Even if hired from another city or country, a person might have to relocate. This cannot be afforded in every case and therefore can become an obstacle for many. 
 Freelance remote developer opportunities can provide tech talent with a platform to learn and polish their skills. It can be especially advantageous for young engineers as well as more seasoned developers. 
In terms of career growth, remote jobs worldwide pave the way for evolving a developer's portfolio. Hence, it is a great way to expand your horizons and work with clients all over the globe. Plus, it can help improve communication and management. 
Expenses
With an in-house development job, money is spent on activities such as getting up, arranging commutes, buying lunches, fuel, going back, etc. A portion of your salary has to be spent on these utilities. Plus, the office management also needs to maintain their rent, cost of training, machinery as well as additional expenses.
With the COVID19 pandemic, many companies had to downsize. They even had to lay off employees. After such dire circumstances, companies struggled to get back on track. With changing strategies, it was realized that the remote mode of earning worked better for employers as well as employees.
Work-from-home jobs do not involve spending a certain amount of cash on daily needs. It is a more cost-effective solution. Plus, you get to work on your own personal computer.
Productivity
Ever heard of the term "burnout"? Now, that is the risk if one is unable to manage the challenges of both. With in-house development, extra burdens of work and pressure can lead to mental exhaustion. Remote jobs online come with their set of advantages.
If the developer, in any case, is unable to balance coding projects, it can cause severe "burnout". It can be very bad for mental as well as physical health. Being in the same posture for hours and hours can be harmful to the back. As a result, a person might feel weak and be unable to finish their tasks.
The same principle applies to remote technology jobs. Overworking or taking up more projects than the ability of the person can become very exhausting. Therefore, one should only work according to their capacity.
Many online businesses are introducing employee wellness programs. This includes discussions, casual talks, and a chance for people to "unwind". Google and Microsoft are some of the names using wellness incentive ideas.
Sustainability
Openings for remote jobs are on the rise these days. With new strains of COVID19 and advancements in technology, people have come to appreciate the beauty of remote employment. In addition, for younger people, there are quite a lot of part-time programming jobs from home. 
Reaching a location requires transport and transport is dependent on fuel. This can add to the amount of environmental and noise pollution on the roads. A better approach would be to aim to reduce every person's carbon footprint. 
Conclusion
After assessing all these factors, it is no doubt that home-based software development jobs are a better decision for tech experts. It does not matter whether you take up part-time remote jobs or full-time gigs.
From senior developer remote jobs to remote front-end web developer jobs to remote java developer jobs, etc., the virtual world is brimming with opportunities.