Counter-Strike is one of the most popular competitive multiplayer first-person shooter (FPS) games in the world. The game has been around for decades and continues to draw gamers from all walks of life who are eager to test their skills on a global stage.
While graphics and gameplay have received much attention over the years, audio configurations in Counter-Strike 2 don't get as much recognition yet can be just as important when it comes to improving your gaming experience. This article takes a comprehensive look at how you can improve your soundscape by tweaking different audio settings within CS2.
Overview of Audio Configurations in Counter-Strike 2
Counter-Strike 2 is a highly competitive, fast-paced first-person shooter game. The audio configurations of the game play an important role in creating a realistic gaming experience.
This article provides an overview of how to configure audio settings in Counter-Strike 2 for optimal performance and sound quality. The first step when configuring audio in Counter Strike 2 is selecting the appropriate output device to use during gameplay.
Options include headphones, speakers, or headsets that deliver immersive 3D positional surround sound. Additionally, users can adjust volume levels and fine-tune other settings such as reverb and EQ adjustments to create the desired listening experience for their games.
When it comes to audio configuration, understanding what bitrate works best for your setup is essential for delivering clear sounds with minimal distortion even at high volumes. Generally speaking, higher bitrates provide clearer sound but require more storage space than lower bitrates which produce slightly muffled audios but take up less storage space on your system's hard drive.
It's also important to note that different platforms have different requirements when it comes to audio formats so make sure you check your platform specifications before making any changes in this area! Overall, adjusting the audio configuration settings in Counter Strike 2 requires careful consideration since they directly impact both gameplay performance and overall user experience while playing the game online or offline with friends or teammates alike! With proper knowledge about available options and preferences towards certain sound levels players should be able to easily find their ideal balance between crispness versus clarity ratio for their gaming sessions!
Adjusting the Master Volume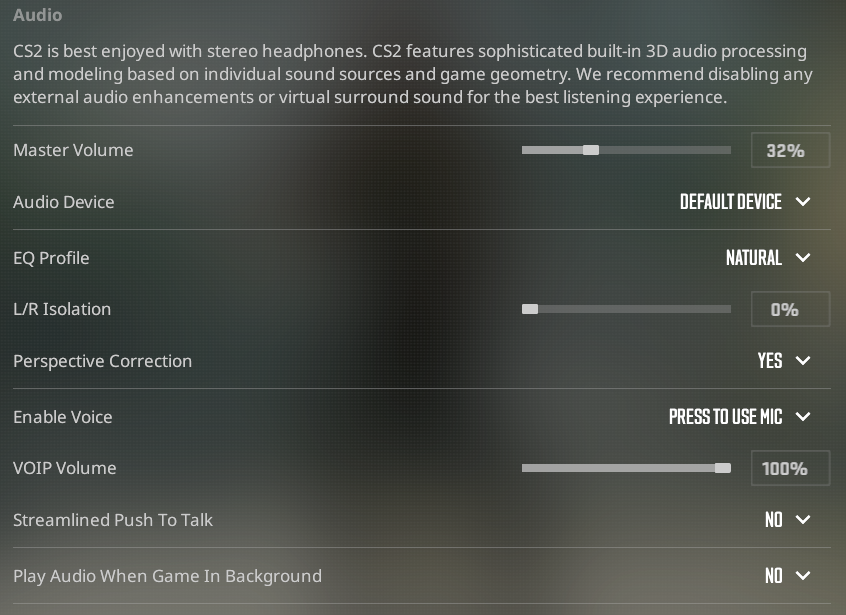 Adjusting the Master Volume is an essential step in creating a superior audio experience in Counter-Strike 2. It is important to find the right balance between sound effects, music, and voices that will give players an optimal gaming experience.
To get started, open up the main game menu and select "Audio Configurations" from the dropdown list. From there you can adjust both individual volume levels for each element as well as set a master volume level that applies to all sounds playing at once.
Furthermore, turning on or off certain elements like voice chat or sound effects can help create your desired audio mix. Experimentation with different settings is encouraged until you find what works best for you!
Modifying Sound Effects and Voice Communication Options
Counter-Strike 2 offers many options for customizing audio: from modifying sound effects to voice communication configuration. Players can customize the way sounds are reproduced in the game, allowing them to make subtle changes that can enhance their gaming experience.
Additionally, voice chat settings allow players to adjust how they communicate with other players and enable a more effective approach when playing as a team. Modifying sound effects and voice communication options is essential for any Counter-Strike 2 player aiming to be competitive in the game.
The right balance between sound effect volumes will help improve positional awareness while also creating an immersive environment where each noise has its place. Meanwhile, correctly adjusting microphone sensitivity levels, echo cancellation and noise suppression settings will ensure that your teammates' voices are heard loud and clear without any background distractions or interference during heated firefights or important tactical discussions.
Furthermore, enabling push-to-talk mode allows you to stay focused on what matters most – winning rounds!
Setting Up Surround Sound for Maximum Immersion
Setting up surround sound for maximum immersion is a great way to take your Counter-Strike 2 audio experience to the next level. With four speakers around you, you will be able to hear directional footsteps and gunfire from all directions, adding more realism to the game.
You'll also get an extra boost in situational awareness as you can quickly pinpoint where sounds are coming from even when there's commotion or chaos on screen. To properly set up your surround sound system, you need a few components such as a receiver and amplifier, four speakers (two at the front and two at the back), and speaker cables connecting them all.
Additionally, if possible it's recommended that you use HDMI ARC technology which allows communication between your TV and receiver so that they can automatically adjust settings depending on what type of content is playing. Once everything is connected correctly with the correct settings enabled in-game, make sure each speaker plays out its distinct channel by testing it with music or movie clips before jumping into a match of Counter-Strike 2!
Conclusion
This article has provided an in-depth look at the audio configurations for Counter-Strike 2. We have discussed various sound settings, such as volume levels, distance attenuation, and spatialization that can be tweaked to create a more immersive experience while playing.
While there are many different options available to customize your experience, we recommend taking inspiration from professional players such as sh1ro cs2 settings who have their own unique set of CS2 settings. Overall, adjusting the audio configurations is key to unlocking a higher level of gameplay and enjoyment from Counter-Strike 2.